Julie Zickefoose: Nature Artist & Writer
Letters From Eden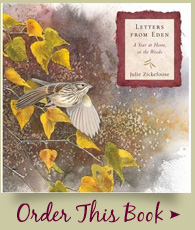 Julie Zickefoose has painted nature virtually all her life. She knew at the age of seven that she wanted to paint birds for a living, and her lifelong dedication shows in her work. The paintings used here, scenes from her beloved southern Ohio home, illuminate well-crafted essays based on her daily walks and observations. She excels at describing and exploring the interactions between people and animals, bringing her subjects to life in just a few lines. Starting with winter, the essays are arranged by season, providing a sense of movement through the year.
Julie Zickefoose began her career as a field biologist for The Nature Conservancy. She became a magazine and book illustrator, then moved to illustrating her own stories. Her monthly commentaries bring a glimpse of Appalachia to NPR's All Things Considered.
From the foreword by Sy Montgomery, author of The Good Good Pig:
...Perhaps Julie's greatest talent is for paying attention - doing what we were made for. Most of the stories captured in these paintings and prose are probably similar to those happening in your own backyard-even if you live in a suburb or city. Julie knows where to find and how to see the dramas that unfold all around us - right here in the real world, the natural world that was our first and still our proper home.

Julie is, by her own admission, a woman 'moved to rapture by half a possum and two owl droppings.' In other words, she is a woman who knows how to live."
Publication date: October 4, 2006
140 full-color and black-and-white illustrations throughout.
Hardcover: $30.00
8 x 8
224 pages
Publicity Contact: Taryn Roeder (617) 351-3818
taryn_roeder@hmco.com
Houghton Mifflin Company