Julie Zickefoose: Nature Artist & Writer
Julie's New Book: Baby Birds: An Artist Looks Into the Nest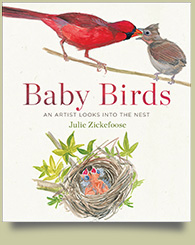 Life sized baby birds wriggle, crawl and flutter off the pages of this big, beautiful book, the product of 13 years' deep involvement and close observation of nestling birds. Julie's paintings break new ground in both art and ornithology, for such depiction of nestling growth in day-by-day paintings from life has never before been done. Baby Birds describes the development of 17 bird species from egg to fledging, giving insights that could only come from direct observation. Expect lively writing, laced with humor, wonder and the relentless curiosity for which Julie Zickefoose is known.
The Bluebird Effect: Uncommon Bonds with Common Birds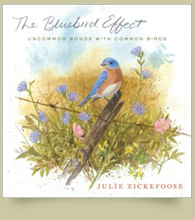 The Bluebird Effect: Uncommon Bonds with Common Birds is about what happens when, by virtue of having helped one or raised one, you are taken for a few magic days, weeks, or months into a wild bird's confidence. You never know how or when that might happen. The book has grown from forty years of working with, studying, drawing and helping birds; trying to fix them when they're broken and mothering them when they're orphaned.
Lavishly illustrated with 320 of the author's color paintings, life sketches and drawings, The Bluebird Effect is a visual delight.
Learn more about The Bluebird Effect »
Letters From Eden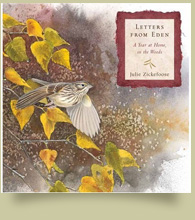 Julie Zickefoose has painted nature virtually all her life. She knew at the age of seven that she wanted to paint birds for a living, and her lifelong dedication shows in her work. The paintings used here, scenes from her beloved southern Ohio home, illuminate well-crafted essays based on her daily walks and observations. She excels at describing and exploring the interactions between people and animals, bringing her subjects to life in just a few lines. Starting with winter, the essays are arranged by season, providing a sense of movement through the year.
Julie Zickefoose began her career as a field biologist for The Nature Conservancy. She became a magazine and book illustrator, then moved to illustrating her own stories. Her monthly commentaries bring a glimpse of Appalachia to NPR's All Things Considered.
Learn more about Letters From Eden »
Backyard Birding: Using Natural Gardening to Attract Birds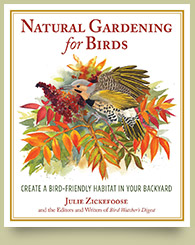 There are few more satisfying things in life than having great birdwatching in your own backyard. Julie Zickefoose shows you how to lay out the welcome mat for birds, step-by-step, with tips on providing water, food and shelter. Backyard Birding has the best flowering and fruiting plants for birds, the best shrubs and trees for shelter and food. Create a hummingbird garden, plan a water feature, bring in some dead snags; let a corner of your property run wild—then watch your yard list take off. You'll find all the inspiration and information you need in this handy book.