Julie Zickefoose: Nature Artist & Writer
"Fantasy Flock" Puzzle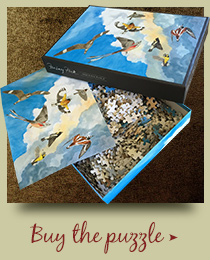 "Fantasy Flock" is my first 1,000 piece jigsaw puzzle, beautifully produced and presented by Galison/Mudpuppy. I originally created this painting for the Smithsonian Center for Migratory Birds. My intent was to show the beauty and diversity of Neotropical migrant birds, from the tiny bay-breasted and hooded warblers to the ruddy turnstone and common nighthawk. Bobolink, black-headed grosbeak and a gorgeous scissor-tailed flycatcher round out the flock for an image with both graphic and geographic appeal—birds from East and West meeting somewhere high in the sky. This 1,000 piece puzzle will give jigsaw lovers a real challenge, as they become intimately familiar with the array of blues in my watercolor washes. Evil cackle. If we've done it, you can too! It's just the thing for anyone who loves birds, Zickefoose art and the meditative challenge of jigsaw puzzles. "Fantasy Flock" comes in a nice sturdy box, perfect for presentation and gift wrapping.
About the Puzzle
1000 pieces
Contains insert about artist and image
Assembled puzzle measures: 20" x 27"
Package measures: 10" x 8.5" x 2"
Product Images