Julie Zickefoose: Nature Artist & Writer
Baby Birds: An Artist Looks Into the Nest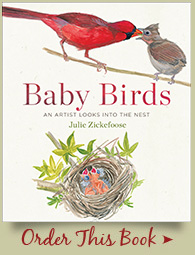 Life sized baby birds wriggle, crawl and flutter off the pages of this big, beautiful book, the product of 13 years' deep involvement and close observation of nestling birds. Julie's paintings break new ground in both art and ornithology, for such depiction of nestling growth in day-by-day paintings from life has never before been done. Baby Birds describes the development of 17 bird species from egg to fledging, giving insights that could only come from direct observation. Expect lively writing, laced with humor, wonder and the relentless curiosity for which Julie Zickefoose is known.
420 watercolors
9 x 101/2"
352 pages
4 lb.
Sample Illustrations
Others Say:
Is there anything Julie Zickefoose won't do for a baby bird? Doubtful. This foster mother carries tiny nestlings against her belly, sings to them, performs emergency micro-surgery, scrambles up bug omelets and blow dries their nascent feathers. It's all done in the interest of figuring them out and capturing their transformation in glorious color, hour by hour, day by day. When Julie peers into the nest, we all learn something important not just about bird life, but about our place in the world.
—Melissa Block
Special Correspondent, National Public Radio
There is no one I know who draws birds so exquisitely, and writes so touchingly about their lives. Julie Z. in her newest book details the tiniest nestlings with masterful strokes of her brush, gracing the miracle of their growth until they fledge. The stories that accompany each chapter are equally enchanting. I loved it.
—Jane Alexander
Actress, author and conservationist
Baby Birds is a sweet, beak, tweet, treat. A gorgeous book that takes you intimately into the nest in a lyrical, lovely way. A treasure for all ages.
—Jamie Lee Curtis
Actress, author
We've all been taught not to disturb birds' nests, and as a result, few of us have ever seen birds while they are still in their infancy. In addition, no artist has ever depicted the development of nesting birds until now. In this marvelous new work, wildlife rehabilitator, artist, and author (The Bluebird Effect, 2012) Zickefoose rectifies this woeful lack by producing beautifully rendered watercolors and drawings illustrating the enormous changes nestling songbirds undergo every day as they grow up. As Zickefoose says, "there's magic in the nest," and the immediacy of her mostly drawn-from-life images will grab readers and immerse them into the nestlings' daily reinvention. She worked with 17 species, including the well-known (eastern bluebird, cardinal, house sparrow, mourning dove) and the less-obvious (indigo bunting, eastern phoebe, prothonotary warbler, yellow-billed cuckoo). Accompanying the daily portraits are delightful observations of each chick, musings on their differing personalities, and the occasional quotation from a scientific paper. Grab this one for the illustrations, then get pulled in by the prose.
—Nancy Bent
Booklist (Starred Review)