Julie Zickefoose: Nature Artist & Writer
The Bluebird Effect: Uncommon Bonds with Common Birds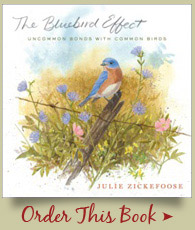 The Bluebird Effect: Uncommon Bonds with Common Birds is about what happens when, by virtue of having helped one or raised one, you are taken for a few magic days, weeks, or months into a wild bird's confidence. You never know how or when that might happen. The book has grown from forty years of working with, studying, drawing and helping birds; trying to fix them when they're broken and mothering them when they're orphaned.
Lavishly illustrated with 320 of the author's color paintings, life sketches and drawings, The Bluebird Effect is a visual delight. Scott Weidensaul, Pulitzer-nominated author of Living on the Wind, The Ghost with Trembling Wings and Return to Wild America, says:
... More than almost any other contemporary artist, Zick has the ability to capture the spark of a living creature—the gift for translating motion and color into line and form, while retaining the essence of the bird.

...Few of us—even those of us who spend our days, and devote our lives, to the study of birds—interact with birds in quite the way that Julie Zickefoose has. Zick's avian experiences are not the run of your typical mill. Although I've handled and banded thousands of hummingbirds, for instance, I have never had one snake its long, exploratory tongue up my nostril. Throughout her life, Julie's been dealing with birds on a much more direct, sometimes startlingly intimate level than most people—as a biologist, rehabilitator, artist and conservationist.

...Roger Tory Peterson once observed that "love" is probably the wrong word to use for our connection with birds, since love is a reciprocal emotion—and birds don't repay our feelings. But what makes The Bluebird Effect such a rare and important book is how Julie provides plenty of examples from her own unusual life of times when birds do reciprocate—the "uncommon bonds" of its title, when birds appeared to repay her passion and concern with, if not love, then with trust and what may even be gratitude.
Publication date: March 20, 2012
ISBN 978-0-547-0039-2
320 full-color and black-and-white illustrations throughout.
Hardcover: $30.00
8 ¼ x 8 ¼
329 pages
Publicity Contact: Taryn Roeder (617) 351-3818
taryn_roeder@hmco.com
Houghton Mifflin Company