Julie Zickefoose: Nature Artist & Writer
I am a writer, artist and naturalist at home in the Appalachian foothills of Ohio. Every day, I roam our 80 acre wildlife sanctuary, and every day I find something new. This deep relationship with the land is the wellspring for my writing and art.
Julie's New Book: Baby Birds: An Artist Looks Into the Nest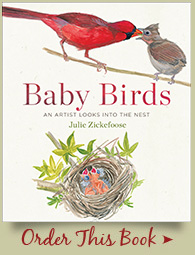 Life sized baby birds wriggle, crawl and flutter off the pages of this big, beautiful book, the product of 13 years' deep involvement and close observation of nestling birds. Julie's paintings break new ground in both art and ornithology, for such depiction of nestling growth in day-by-day paintings from life has never before been done. Baby Birds describes the development of 17 bird species from egg to fledging, giving insights that could only come from direct observation. Expect lively writing, laced with humor, wonder and the relentless curiosity for which Julie Zickefoose is known.
Fantasy Flock Puzzle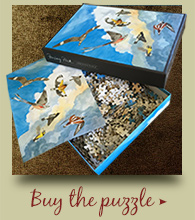 "Fantasy Flock" is Julie's first 1,000 piece jigsaw puzzle. She originally created this painting for the Smithsonian Center for Migratory Birds. Her intent was to show the beauty and diversity of Neotropical migrant birds, from the tiny bay-breasted and hooded warblers to the ruddy turnstone and common nighthawk. Bobolink, black-headed grosbeak and a gorgeous scissor-tailed flycatcher round out the flock for an image with both graphic and geographic appealóbirds from East and West meeting somewhere high in the sky.
Four Seasons of Birds Notecards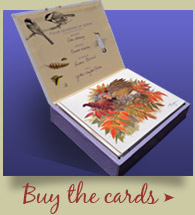 Julie's fans have been buggin' her for years, decades, in fact, for some note cards featuring her bird watercolors. Nothing happened until she was approached by her favorite stationery company, Galison, with the same idea. She got busy painting four of her favorite birds: yellow-shafted flicker, cedar waxwing, Canada warbler and eastern bluebird.
Learn more about the notecards »
The Bluebird Effect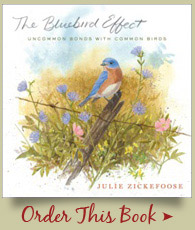 The Bluebird Effect: Uncommon Bonds with Common Birds is about what happens when, by virtue of having helped one or raised one, you are taken for a few magic days, weeks, or months into a wild bird's confidence. You never know how or when that might happen. The book has grown from forty years of working with, studying, drawing and helping birds; trying to fix them when they're broken and mothering them when they're orphaned.
Lavishly illustrated with 320 of the author's color paintings, life sketches and drawings, The Bluebird Effect is a visual delight.
Learn more about The Bluebird Effect »
The Rain Crows: Dream of Flying Dream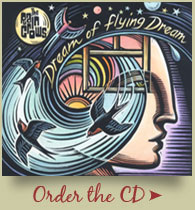 The Rain Crows' new album, Dream of Flying Dream, has a more acoustic, organic feel than their pop-oriented first, Looks Like Rain. Nature-themed without being precious, DOFD looks at things from the viewpoint of an old barn, a bird high in the air, and a turtle on the side of a highway. Includes the Box Turtle Anthem, "Little Soldiers," the prairie song, "Is Anybody Out There," and the haunting barn ballad "All That's Left of Me."
Listen to song samples and order the CD »
The Rain Crows: Looks Like Rain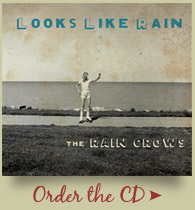 "Looks Like Rain" is the debut album from six musicians who've done enough living to know just what your ears and spirit need. Check out 16 original songs from Julie and Bill's pop/rock/roots band.
"No filler on this disc. Itís more like a long skein of Greatest Hits rolling into the ether. Itís been on continuous play in my car for the week and I haven't been able to let it rest just yet." óDon Bishop