Julie Zickefoose: Nature Artist & Writer
I am a writer, artist and naturalist at home in the Appalachian foothills of Ohio. Every day, I roam our 80 acre wildlife sanctuary, and every day I find something new. This deep relationship with the land is the wellspring for my writing and art.
About Julie's New Book: The Bluebird Effect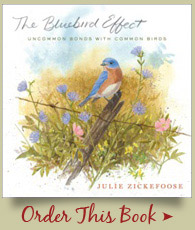 The Bluebird Effect: Uncommon Bonds with Common Birds is about what happens when, by virtue of having helped one or raised one, you are taken for a few magic days, weeks, or months into a wild bird's confidence. You never know how or when that might happen. The book has grown from forty years of working with, studying, drawing and helping birds; trying to fix them when they're broken and mothering them when they're orphaned.
Lavishly illustrated with 320 of the author's color paintings, life sketches and drawings, The Bluebird Effect is a visual delight.
Learn more about The Bluebird Effect »
The Rain Crows: Looks Like Rain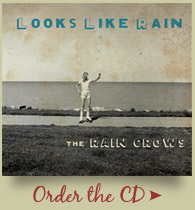 "Looks Like Rain" is the debut album from six musicians who've done enough living to know just what your ears and spirit need. Check out 16 original songs from Julie and Bill's pop/rock/roots band.
"No filler on this disc. Itís more like a long skein of Greatest Hits rolling into the ether. Itís been on continuous play in my car for the week and I haven't been able to let it rest just yet." —Don Bishop